Verona
Located in the Italian region of Veneto, Verona is one of its most picturesque historic cities and a well know tourist attraction.
Home of Juliet's balcony, Verona is known as one of the most romantic cities in the world. In fact, a stroll along its narrow streets, among the many beautiful palazzos, churches and squares is a delightful jump into the Middle ages, just as Shakespeare described them.
But Verona has a much longer history, that will bring you back to the Roman era, which in Verona left one of the best preserved amphitheatres, the Arena, today the perfect location for operas and concerts. Not to miss also the Roman theater.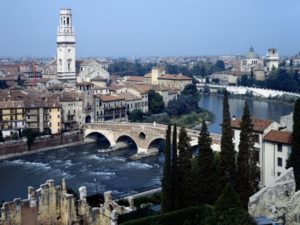 While in Verona, you can enjoy not only its famous sites, but also the wonderful cuisine of the town and its surroundings. Numerous specialties are typical of this city: meat dishes such as gnocchi and the stew Pastisada de caval or the fish dish Renga de Parona. Being close to the Garda lake region and the colli veronesi allows the local specialties to be rich in fresh fruit and vegetables, some typical such as the Verona's red radish, chestnuts, cherries and peaches. And for dessert don't miss is the famous Pandoro cake, especially loved for Christmas.
To sum it up, a tailored experience in Verona might include tastings of excellent wines and specialties in one of the villas around Garda lake, attending a great concert at an exclusive setting such as the Arena, and staying at a luxurious Renaissance pallazzo furnished with style and the latest technologies.