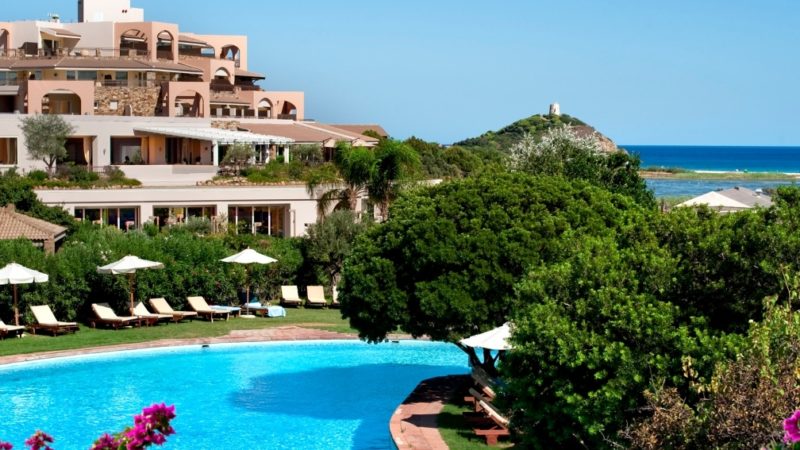 Price upon request
The Chia Laguna Resort in the enchanting bay of Chia in the south west of Sardinia offers exclusive accomodation facilities, that will satisfy the requirements of all guests. Thanks to the special service, guest care and its splendid location surrounded by the most beautiful beaches of the Mediterranean, the Chia Laguna Resort will make your vacation unique and special.
HOTEL LAGUNA RESORT *****
The 5 star unique hotel in the Chia bay is a true italian and international style pearl. The 82 spacious and modern suites, decorated in local style with colorful mosaics are the ideal solution for those in the search of relaxing and luxurious vacation.
OASI **** AREA
The Oasi area, with its 34 new rooms is a new style and elegance concept. Settled in the panoramic area, the rooms offer a splendid view on all the resort and the Chia resort. The facility owes its name to the exclusive pool with waterfalls surrounded by the rich green gardens, which can only be accessed by the Laguna resort and Oasi guests.
HOTEL VILLAGE****
in the Hotel Village Surrounded by the Mediterranean scrub, you will enjoy all the comforts of spacious and modern cottages and 240 rooms that will respond to all of your requirements. The Village is especially tought for families, offering children services and activities, such as the miniclub and the shuttle train to the beach. The new central pool is only a few steps away from the main service points such as restaurants, miniclub, wellness centre and the lively Piazza degli Ulivi: exactly what you need for a relaxing and fun vacation.
RESTAURANTS:
The Chia Laguna Resort has a wide range of restaurants, for every moment of the day: from the pool restaurant next to the wonderful village pool, to the pizzeria at the Piazza degli Ulivi square offering pizza from the typical log fire, or to the elegant La Terrazza restaurant with its a la carte menu dishes, intermingled with the island's distinctive specialties and products, served in a stylish
ambience.
BEACHES:
The Chia Laguna Resort is surrounded by the most beautiful beaches in South Sardinia, which are all easily accesible. The clients of the Laguna resort can enjoy the beach service – a special VIP area and service of private transfer to the beach club.
ACTIVITIES:
There are a lot of activities in the Chia Laguna resort: horseback riding, boat excursions to hidden beaches, aquatic sports such as kitesurfing, windsurfing and canoe, scuba diving in the fully equipped diving centre, tennis on one of the tennis courts or simple walks on the long white sand beaches.
EXCLUSIVE BENEFITS
Private VIP class transfers
Accomodation in suites or superior rooms
Priority check in and check out
Welcome cocktails and gifts
Excursions and visits with private guide
Assistance for SPA and restaurants bookings
Telephone assistance 24h