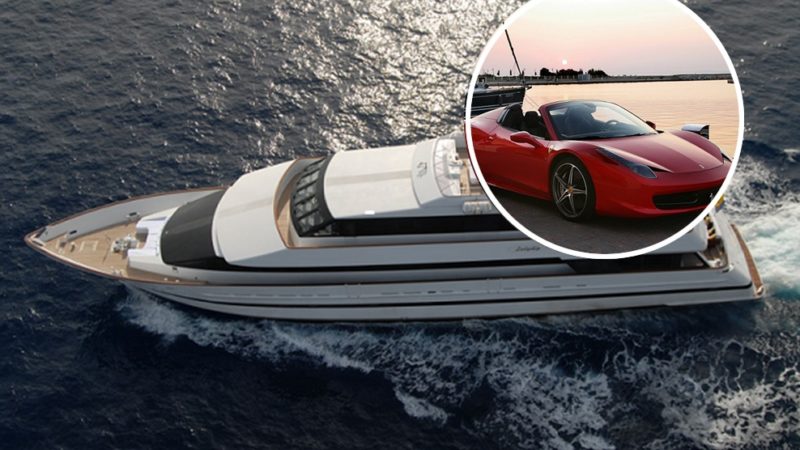 Price upon request
1st Day
Venice, Italy
Meet with your VIP private driver and reach the lagoon. Your accommodation is in a previously selected 5* star hotel where our representative will greet you and meet you in this beautiful city. This day is free for individual visits or leisure time. Dinner and overnight stay.
2nd Day
Venice-Rovinj, Italy
Meet your private guide for a 3 hour tour of the most interesting sites of Venice, such as the Basilica of St. Marco, the Doge's Palace with its residence, as well as the Bridge of Sighs and  Rialto which are two of the most famous bridges in Venice. Afterwards, there is time available for private visits or shopping at your disposal. Next is departure from Tronchetto with your Ferrari 458 Italia to Rovinj, Croatia. Overnight in Rovinj 5 Hotel 5*.
3rd Day
Rovinj- Zadar, Croatia
Breakfast at the hotel. Meet a private guide and departe with your Ferrari 458 towards Zadar (approximately 5 hour ride).  Accomodation is awaiting on you in a 5* hotel.  The rest of the day will be for free time and relaxation.  Optinal route to be defined. Overnight.
4th Day
Zadar-Split
Breakfast at the hotel.  Meet a private guide and departe with your Ferrari 458 towards Split. Upon arrival, accomodation in a 5 * hotel. Time for relaxation or for individual discovering of the town.
5th Day
Split, Croatia
Meet with your VIP private driver and reach the luxury yacht Hessen 41 located in ACI Marine Split. The town of Split is a fascinating Croatian town with a 1,700 year old tradition. The town is well known for its historical monuments and its inscription into the UNESCO World Heritage List. Welcome drink will await on board.  Spending the night in a nice bay.
6nd Day
Split-Hvar-Pakleni Otoci, Croatia
We will proceed cruising to the magnificent island of Hvar defined by Lonely Planet  as one of the top 10 regions. You will have the opportunity to find out why is Hvar also called the Croatian St. Tropez. A local private tour guide will take you on a walking tour of the Hvar town. On this tour, you will experience the Mediterranean hospitality and learn about the island's heritage and history. Soon, we will leave the town of Hvar and enjoy a boat trip to  Pakleni Islands. Before our arrival to Pakleni Islands, we will select one of many beautiful bays, where you can enjoy your lunch in one of the local restaurants along with some free swimming time. We are overnighting in Hvar, in the most beautiful Palmižana Marine.
7th Day
Hvar-Pakleni Otoci, Croatia
You can explore Pakleni Islands on your own and swim in the beautiful bays, which will complete you with an unforgettable feel of nature. Enjoy a scent of lavender and agave plants, swim in the crystal blue sea,  and watch the sunset on the sunniest island of Croatia. We are overnighting  in the most beautiful Palmižana Marine.
8th Day
Hvar- Lastovo, Croatia
We will proceed cruising to Lastovo, one of the most beautiful Croatian islands with the extraordinary yet untouched nature, holding only 500 inhabitans known for their hospitality. Lastovo is a diving paradise that offers an exciting opportunity of exploring a rich marine life in the Adriatic Sea. Enjoy a scent of lavender and agave plants and swimming in the crystal blue sea. Spend the night in a quiet bay on the south side of the island with the possibility of dinning in a typical fish restaurant.
9th Day
Lastovo-Dubrovnik
After Lastovo, we are on a route to Elafiti Islands, where we will take a deserved rest from last night. The old historical name was first used by Pliny the Elder (1st century) in his work Historia Naturalis, III, 152. A Greek name (elafos: deer) indicates that such a game could have been found on the islands. The group consists of the following islands: Jakljan, Sipan, Ruda, Lopud, Kolocep and Daksa (some also include Lokrum), as well as several smaller islands – Olipa, Tajan, Crkvine and Sveti Andrija (St. Andrew). You are in for sunbathing and a light lunch before we sail towards Dubrovnik. Overnight stay in Dubrovnik.
10th Day
Dubrovnik-Tivat
Breakfast in Dubrovnik.  Following breakfast, there is free time for a private tour to Dubrovnik at your own pace. Dubrovnik, listed in the UNESCO World Heritage City Programme, is one of the most important historical tourist centers in Croatia. In the Middle Ages, the Republic of Dubrovnik was the only town-state on the eastern coast of the Adriatic Sea competing with Venice. Also, Dubrovnik was one of the centers in developing of Croatian language and literature. A tour of the town's walls, the Dubrovnik Cathedral, numerous churches and monasteries, palaces, and various performances is available. An opportunity to take a trip on one of the excursion boats through the Dubrovnik archipelago. Next is departure to Cavtat. Overnight stay in Cavtat.
11th Day
Cavtat-Tivat
Cavtat is the center of a unique scenery beauty: bays and beaches, submarine areas, rich vegetation, and a home of pines and cypresses. The significance of antiquities and cultural heritage, clean environment, and mild mediterranean climate make Cavtat one of Croatia's most desirable coastal tourism destinations throughout the entire year. We will proceed cruising to Tivat.  Overnight stay in Montenegro's port, the most luxurious marine in the Adriatic Sea.