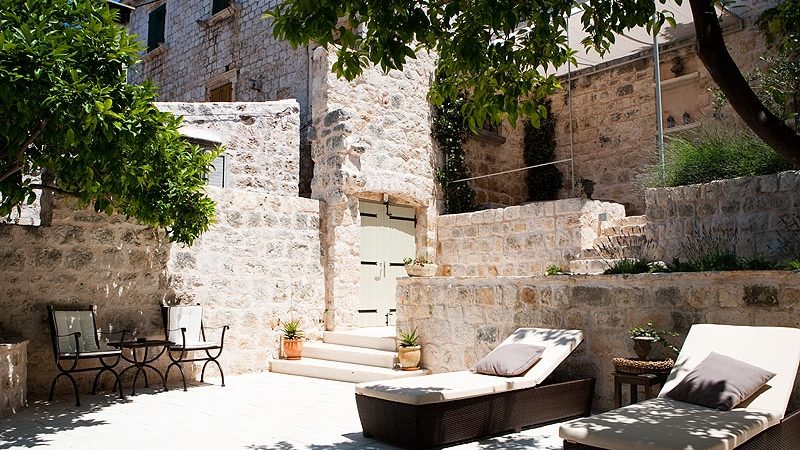 Villa Location

Croatia (South Dalmatia)
Villa Guests

10
Price from € 5,250.00 EUR / per week
Villa Antiqua assembles all the magnificent aspects of a perfect luxury holiday. Within 650m2 of Baroque style surface, situated in the center of old town Hvar this wonderful estate is perfect for a company of 10 people, eager to taste the true Mediterranean lifestyle.
Built in 1612, it is a monument under the protection of the State institute for cultural heritage protection.
This edifice consists of a baroque palace and medieval gothic house. Villa Antioqua Hvar has 5 bedrooms each with double bed, 5 bathrooms, one toilet and it is suitable accommodation for 10 people. Villa also has a wellness – spa area with swimming pool, hot tub, sauna and massage room.
It is divided into three levels (low-ground, ground floor and first floor-attic), connected by original restored staircase. On the high ground floor of baroque palace is spacious living room (45m ²) with a commodious balcony all along the length of a living room. It is equipped with fireplace, comfortable sitting area, home library with rich choice of books, magazines and publications in different languages. High tech equipment consists of satellite TV, DVD, Internet connection and computer. Beside the living area in this part of the house you will find two bedrooms (27m² and 20m²), both with king size beds and private bathrooms with shower. There is also another separate guest toilet between these two bedrooms. This area is in direct connection with dinning room and kitchen, reachable with a long corridor. In the garden area (200 m2) there is another dining table for 10, swimming pool with outdoor lounge and sitting furniture. Another three double bedrooms are situated on the first floor – loft, of the baroque palace. Each bedroom has its own bathroom with shower, only the biggest one (50m2), master bedroom has a bathroom with a bath tub. On the low ground floor area of gothic house is a wine cellar, large sauna and relaxation room with a hot tub, shower and separate massage room equipped with the massage table, essential oils and all other necessities. On the high ground floor of gothic house is an indoor pool (approx. 25 m²) with convertible glass doors, so it can be easily transformed into an outdoor one. Villa Antiqua Hvar is completely air conditioned and heated, all rooms have LCD satellite TVs. In Villa Antiqua Hvar you will find all the necessary side equipment as well as kitchen equipment such as coffee machine, ice maker, vine refrigerator, stove and oven, laptop, Internet access, safe, laundry washer and dryer, dishwasher, hair dryers etc.
Villa Antiqua Hvar also provides you a service or a housekeeper and a porter, who will ensure that all your questions and needs are being taking care of.
Land surface: 650 m2
Object surface: 450 m2
Total floors: 3
Rooms: 5
Guests: 10
From sea: 20
From beach: 20
Terrace: Yes
Jacuzzi: Yes
Swimming pool: Yes
Air condition: Yes
No. of stars: 5
Distance from airport: 40 km