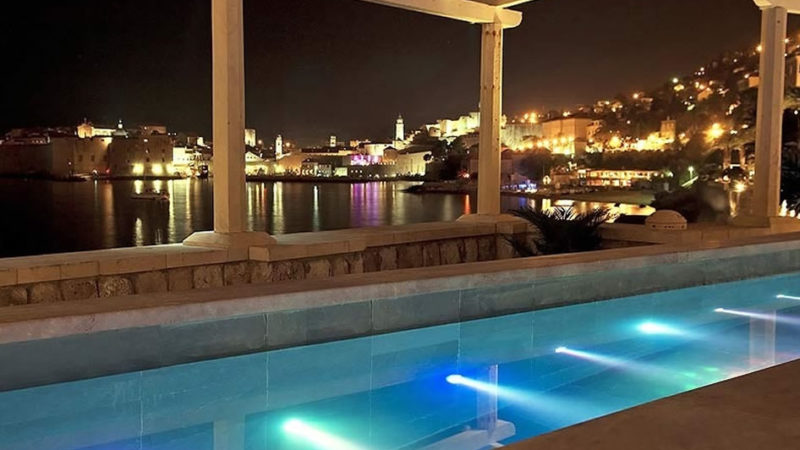 Villa Location

Croatia (South Dalmatia)
Villa Guests

6
Price from € 2,000.00 EUR / per day
Luxurious five star villa regarded as one of the finest luxury villas in Dubrovnik, the five-star Villa St. Lazarus is stunningly located on a clifftop, overlooking the Adriatic Sea, with wonderful views of Dubrovnik's Old Town and Lokrum Island.
Villa St. Lazarus is located in the pearl of Adriatic, our cultural and historical town-monument, Dubrovnik. Constructed on a rock, just a meter away from the sea and about 400m far from the centre of Dubrovnik, this Villa is a precious vacation home. Except for the extraordinary location, Villa St. Lazarus is a real cultural and historical monument. The main part of the Villa is an old chapel of St. Lazarus, build in 13th century, while the rest part of the Villa dates from 17th and 18th century, according to curators.
Villa St. Lazarus used to belong to a famous British archaeologist, Sir Arthur Evans (from 1875 to 1882) who is meritorious for discovering the remains of Antic civilizations on island of Kreta. Villa was completely ruined in Second World War, abandoned, roofless until 1973, when it was renovated by well known Croatian painter Milovan Stanic, who's fresco you can still find on the living room wall of the Villa. Today, this amazing Villa is a favourable destination of celebrities, such as Kevin Spacey- who was in fact one of the first guests of the Villa.
The property of Villa St. Lazarus is 400m2, while the building itself is 270m2, and consists of two floors, ground and first floor. Villa St. Lazarus is suitable accommodation for 6 persons. Villa has 3 bedrooms and 4 bathrooms.
On the ground floor of Villa St. Lazarus there is a living room with fireplace and dining area with table for 8 persons. Here on the ground floor there are also two bedrooms, each with its own bathroom. Just a few stairs down you will find a quite interesting meditation room.
The first floor of Villa St. Lazarus you will reach with open wooden staircase, where you will find a master bedroom with two bathrooms, and also a small office room with terrace. Villa St. Lazarus has 5 terraces. The biggest has swimming pool with stunning view over the old town Dubrovnik. In this part there is also a summer kitchen and a spacious sitting area.
In front of the Villa St. Lazarus there is a pebble beach, reachable by stairs, where you can enjoy the crystal clear sea. Villa St. Lazarus is completely air-conditioned, has SAT-TV, DVD, and HI-FI, wireless Internet and has service of professional chef and waiter.
Land surface: 400 m2
Object surface: 270 m2
Total floors: 2
Rooms: 3
Guests: 6
From sea: 1
From beach: 1
Terrace: Yes
Swimming pool: Yes
Seafront: Yes
Air condition: Yes
No. of stars: 5
Distance from airport: 22 km
Price includes:
Changing of linens every day
Daily cleaning
Tourist tax
Internet wireless access
Welcome gift
House Manager
Housekeeper
Waiter during breakfast time
Parking space
Features of the location – distance:
Distance from sea: 1 m
Nearest beach: 1 m – private beach with concrete plateau
Nearest pebble beach: 400 m
Nearest rocky beach: 50 m
Distance from the city centre of Dubrovnik: 400 m
Nearest restaurant: 30 m
Nearest cafe bar: 30 m
Nearest shop, bakery: 400 m
Nearest market and fish market: 850 m
Nearest hospital and doctor: 2,5 km
Nearest pharmacy and dentist: 850 m
Nearest ATM and exchange office: 30 m
Nearest bank: 850 m
Nearest tennis court: 2,5 km
Nearest sport centre: 50 m
Nearest wellness centre: 30 m
Nearest children facility: 30 m
Nearest gas station: 1,5 km
Nearest ferry port: 1,5 km
Nearest catamaran port: 2,5 km
Nearest bus station: 2,5 km
Distance from marina: 500 m
Nearest airport: 22 km Dubrovnik (Cavtat)